Dear Ferg,
I am registered here since a couple of weeks and become a great fan of your artwork.
Our collection (me and my partner) extendet up to 6 Squadts - focused on cooperations with Band Peters or Kenny Wong.
We are also at the creative business and like the kind of style in which the trouble boys, terror boys or copperheads are transcribed.
That makes us very curious about the design drawings. Can you show us sketches from the first Idea up to the final character developement?
Would be great to see some of these - just found the trouble boy no. 7 sketch:
What about the others - Trouble boy no. 10, 88, copperhead or terror boy ooze?
We are very curious about these conception phase drawings.

You'd have more chances on the CP board, since to me these seem to be made by Brandt rather than Ferg.

I have seen a few of the sketches in photos of their joint gallery exhibitions. Im not a TB expert at all, but I do know that the toys themselves never have anything else inside in regards to artwork.

Like I said, to me it seems Brandt is the one that executes the drawings. I could be completely wrong, ha~!

Good luck!
COLLECTOR-DESTOYER




Posts

: 3265


Join date

: 2011-10-12


Age

: 32


Location

: Chicago



Thats a dope sketch. Would love to see more if you manage to find some on your search.
CAD Animal Mother




Posts

: 2183


Join date

: 2012-07-10


Age

: 33


Location

: L.A.



CAD Special Forces




Posts

: 558


Join date

: 2013-04-18


Age

: 40


Location

: City of Angels



Thanks a lot for your help.
That gave me a better inside-view of the amazing drawings of brandt peters.
Unfortunatelly I couldn´t find anything about the process itself. Means the Story behind the character.
something I can share with you: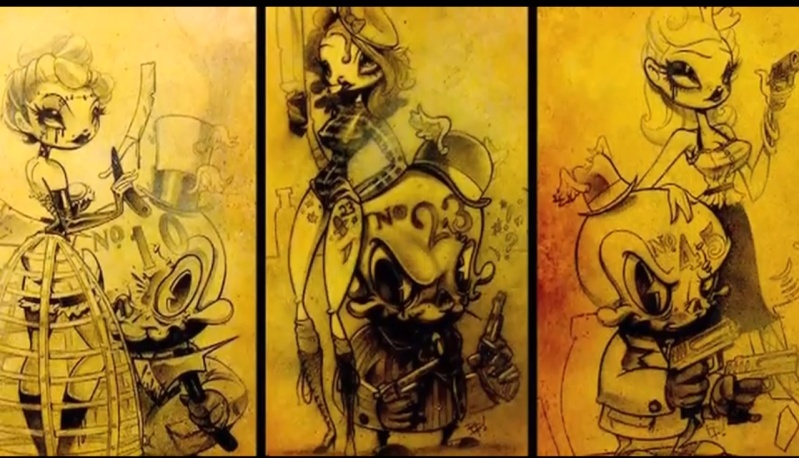 " />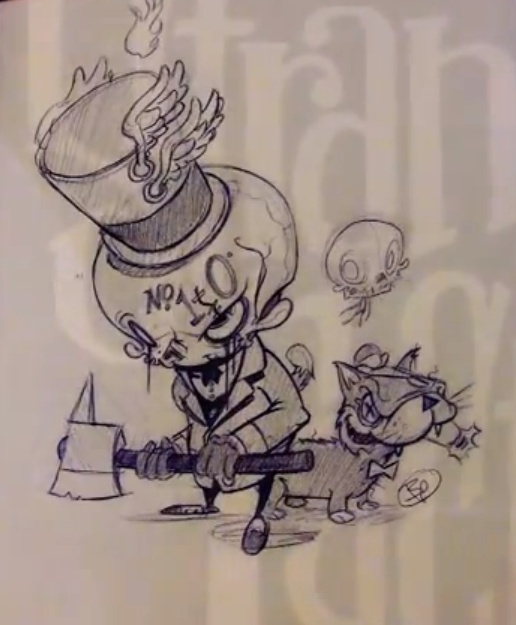 " />
Those are drawings that Brandt created for our collaborative show at Stranger Factory. "Trigger"

NURD ALERT: The story behind the Trouble Boys faction is basically this; Squadts are history buffs..specifically human history. Most Squadt Gangs/weapons are based on eras or styles they discovered when studying the 'human period' of earth.(In the squadt world humans are long extinct, however, there is a wealth of archaeological evidence remaining.) Trouble boys model themselves after various organized crime groups found throughout the 20th century.

Here is the Squadt back story for reference:

THE SQUADT STORY:
Earth. All that remains is a shell of what the humans once called home. They are all gone now. Wiped out by a violent plague of some sort.. The cause? Who fucking knows…that's not the point of this story. The point is how the hell the Squadts came to call our planet home. I will tell you. The powers that be, on the Squadts mother planet, thought it would be a good idea to purge their prisons and cleanse their lands of the dregs of society.

They loaded them up by the thousands, into a massive, interstellar, incarceration transporter (a huge fucking prison ship). Earth would be the final destination. It would now serve as a prison planet for the unruly Squadt masses. They would be left to their own devices, but monitored closely by the powerful Squadt overseers back home. A violent social experiment of the grandest scale…but of course shit went wrong.

Upon entering the earths atmosphere the massive prison ship had a major entry sequence malfunction. The landing was successful, but not without extensive casualties and complete decimation of the home planet communication and monitoring systems.

The surviving Squadts took right to their new home, adopting leftover human technology as if it was their own. And Because of their inherent violent and deviant nature, they instinctively divided into opposing gangs. Many battles would be fought. This is the story of the Squadts.~
FERG




Posts

: 4007


Join date

: 2008-06-21



very cool too read that Admin !! as a beginner collector of your squadts ! now i no a little bit more of the story behind them
COLLECTOR-DESTOYER




Posts

: 3148


Join date

: 2013-04-19


Location

: netherlands



Amazing background story on Squadts! Thanks Ferg!!
CAD Born Again Hard




Posts

: 354


Join date

: 2013-05-14


Location

: DFW



thank you ferg for that inside view.
this helps to get deeper into the squadt universe.

actualy i ment the story of developing the final character. from the first idea, over several sketches to the real figure.
I love these drawings

CAD Grunt




Posts

: 141


Join date

: 2013-04-05


Age

: 31


Location

: Chicago




---
Permissions in this forum:
You
cannot
reply to topics in this forum