hey guys, haven't been around much in the past couple of years... a little lurking but no collecting really. my interests have changed I guess.
I'm going to be putting up my collection for sale in the next week or so- should I just go ahead and do it here or on the bay?
I don't really know what market prices are for much of this stuff... and not sure that I want to start breaking up sets...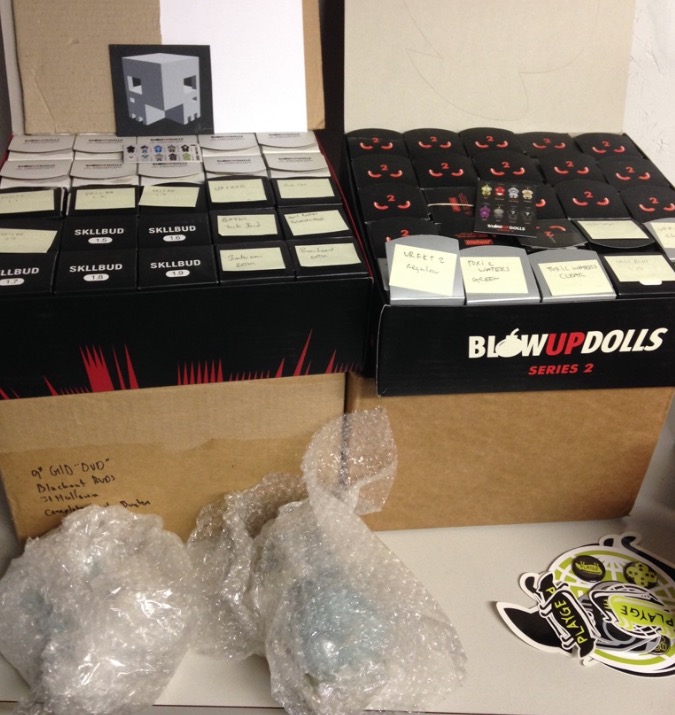 I've got series 1, 2, and 3 of the BUDS complete
The Blackout BUDS (blue and red)
all the Sqwerts except the McPherson one (series 1 and the other ones too)
the 1.0 - 1.9 Skllbuds
the 8" Kozik Anarchy symbols (pink, black and GID murder)
9" grey BUD
9" grey Nade
9" white Nade
9" Red transparent Threezero in jacket - 1 of 50!
the halloween Mechin bud
the BOTM BUDS - I think all of them...
Diesel Fuel set x2
the BUNKER BUSTERS series - not sure about completion, need to inventory
9" GID DUD
Squadt Fr0g s003 and K11 spot Frozen Whole (no box but complete)
Misfortune Cat 2.5 original - WHITE signed by FERG
SQUADT PLAYGE DOCTOR S003 [TREATS]
everything is new is box and not displayed, I'm a hoarder not a displayer. boxes may be dusty but the figures are not.
I have some other RARE prints and stickers and a bootleg shirt that probably need to be looked after as well
thanks for advice!
PM'd to ask about prints.

Good luck with the sale once it goes live.

Also: dibs on the pile of stickers and pins.
Last edited by Colossus of Destiny on Thu Apr 30, 2015 9:06 am; edited 1 time in total (Reason for editing : Stickers pins pins stickers stins pickers)
CAD Animal Mother




Posts

: 1573


Join date

: 2009-05-22


Age

: 34



Way to beat me to everything I was going to ask about.
c0113c70r_D3$7r0y3r




Posts

: 4668


Join date

: 2008-07-05


Age

: 35


Location

: Vegas



thanks guys- I'll probably post in the sales area in the next few days-
no bites eh? prices too high? nobody into Jamungo anymore?

there's Squadts on there too...


Similar topics
---
Permissions in this forum:
You
cannot
reply to topics in this forum